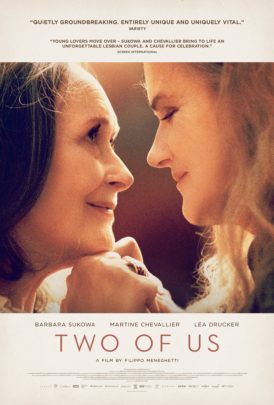 Two of us
A film by Filippo Meneghetti, 2019
-
Genre: Comedy/Drama
Languages: French
Subtitles: English
Format: 2K
Sound: 5.1
Duration: 95 min
Countries: France, Luxembourg, Belgium
Year: 2019
SYNOPSIS
-
Nina and Madeleine, two retired women, are secretly deeply in love for decades. From everybody's point of view, including Madeleine's family, they are simply neighbors living on the top floor of their building. They come and go between their two apartments, sharing the tender delights of everyday life together. Until the day their relationship is turned upside down by an unexpected event leading Madeleine's daughter to slowly unveil the truth about them.
CREDITS
-
Director: Filippo Meneghetti
Screenplay: Filippo Meneghetti and Malysone Bovorasmy, in collaboration with Florence Vignon.
Image: Aurélien Marra
Sound: Céline Bodson
Decors: Laurie Colson
Costumes: Magdalena Labuz
Make-up: Katja Reinert
Editing: Ronan Tronchot
Cast: Barbara Sukowa, Martine Chevallier de La Comédie-Française, Léa Drucker, Jérôme Varanfrain, Muriel Benazeraf, Daniel Trubert, Augustin Reynes, Hervé Sogne, Sophie Langevin, Eugénie Anselin, Aude-Laurence Biver, Denis Jousselin.
Produced by Paprika Films (France), Tarantula Luxembourg, Artemis Productions (Belgium).
International sales: The Party Film Sales
FESTIVALS
-
TIFF 2019 - Toronto International Film Festival

BFI London Film Festival (UK)

Cinemed (France)
Prix du public et prix étudiant

Premiers Plans Festival Angers (France
Prix du Public

Rome Film Festival (Italy)

Thessaloniki IFF (Greece)

Panorama of European Cinema in Cairo (Egypt)

Festival Do Rio (Brazil)

Tallinn Black Nights International FF (Estonia)

Macau International Film Festival (China)

Les Arcs Film Festival (France)

Rotterdam International Film Festival (The Netherlands)

Ramdam Festival (Belgium)

Goteborg Film Festival (Sweden)

Glasgow Film Festival (UK)

Dublin International Film Festival (Irland)
Best Actress Award for Barbara Sukowa (Dublin Critic Circle)

Belgrade International Film Festival (Serbia)
Best Debut Award
Merlinka Award for Best Queer Film

Vilnius International Film Festival (Lithuania)

Istanbul Film Festival (Turkey)

Beijing International Film Festival (China)

Split Mediterranean Film Festival (Croatia)
Prix du Public

Grand Teatret Copenhague (Denmark)

Molodist Kiev (Ukraine)
Prix du Public
Prix du Jury Fipresci

Taiwan International Queer Film Festival (Taiwan)

Febiofest (Czech Republic)

Queer Lisboa (Portugal)

French Film Festival Romania (Romania)

Ourense Film Festival (Spain)
Meilleur Film
Meilleure Actrice – Barbara Sukowa

Zurich Film Festival (Switzerland)

LUSTSTREIFEN Film Festival (Switzerland)

Pink Apple Filmfestival (Switzerland)

Mix Copenhagen (Denmark)

Gangneung International Film Festival (Korea)

Rainbow Factory Film Festival (Korea)

Queersicht (Switzerland)

TLVFest - Tel Aviv International LGBT FF (Israel)

Side by Side LGBT (Russia)

PinkPanorama FilmFestival Luzern (Switzerland)

Hong Kong Lesbian and Gay Film Festival (Hong-Kong)

UNCUT Cinema Rex (Switzerland)

Out on Film Festival (Atlanta – U.S.A)
Jury Award for Best Narrative Feature
Jury award for Best First Feature

Slovenias's LGBT Film Festival (Slovenia)

Pune International Film Festival (India)

Dharamshala International Film Festival (India)

ASC - American Society of Cinematographers
Spotlight Awards winner Aurélien Marra
PRESS REVIEWS
-
"Filippo Meneghetti's debut feature "Two of Us" is an entirely unique and uniquely vital lesbian love story." – Variety
"Beautifully crafted and perfectly cast, the film touches on everything from keeping up appearances and family dynamics between parents and adult children to a critique of retirement homes that over-medicate residents." – Screen Daily
"As visually stunning as it is profound, Two of Us is an incredible exploration of what it means to love and be loved in return" – Globe & Mail 
""Two of Us" is one of those artfully crafted movies that never plays as such, because its proud, beating heart is so front and center, and its faith in the power of love and desire so energizing." – Los Angeles Time